SEPTEMBER 26, 2020 | 11:00AM-3:00PM | DRIVE-THRU EVENT MAIN STREET, BALDWIN, WI
THE COVID BUG WON'T STOP THE BEAN FROM CELEBRATING 15 YEARS OF CHILI FEST!
DUE TO THE NATURE OF OUR EVENT, EACH YEAR ST. CROIX COUNTY PUBLIC HEALTH OK'S US TO HAVE CHILI FEST FOR YOU TO ENJOY.  WITH THEIR ADVISORY STILL IN EFFECT, WE WILL HAVE A DRIVE-THRU EVENT FOR US ALL TO ENJOY SAFELY FROM OUR VEHICLES THIS YEAR.  FINGER'S CROSSED, WE WILL HAVE THE GREEN LIGHT TO GO AHEAD IN 2021 & THE EVENT WILL LOOK MORE LIKE THE CHILI FEST WE KNOW AND LOVE!
UNTIL THEN, WE HOPE YOU UNDERSTAND AND WILL STILL COME OUT AND HAVE SOME FUN DOWNTOWN BALDWIN!
THIS YEAR MIGHT BE DIFFERENT, BUT IT'S REALLY PRETTY SIMPLE, HERE' S HOW IT ALL WILL WORK:
- HEAD TO OUR REGISTRATION PAGE AND PURCHASE A CHILI MEAL.
- COME TO MAIN STREET ON 9/26.  YOU WILL CHECK IN AND RECEIVE PART OF YOUR MEAL THERE.
- YOU WILL THEN HEAD IN YOUR VEHICLE DOWN MAIN STREET TO PICK UP YOUR CHILI SAMPLES.
- YOU WILL RECEIVE A LINK TO GO AND VOTE FOR YOUR FAVORITE CHILI!
BUT THERE'S MORE!
WE WILL HAVE SOME THINGS FOR YOUR TO ENJOY & PURCHASE ALONG THE WAY.  ALL PROCEEDS WILL HELP US AT THE BW CHAMBER CONTINUE TO HOST THOSE FUN, FREE, FAMILY FRIENDLY EVENTS FOR OUR COMMUNITIES!
- BUSINESSES WILL BE ALONG THE ROUTE HANDING OUT SOME GOODIES.
- BERNIE ROCK WILL BE PLAYING SOME OLDIES AS YOU DRIVE THROUGH MAIN STREET.
- THUNDER COUNTRY WILL BE ON CHANNEL 95.7 WITH SOME FUN GIVEAWAYS!
- MISS BALDWIN ROYALTY WILL BE THERE TOO, WATCH FOR THE SPARKLING CROWNS!
- DON'T MISS OUT ON PURCHASING A CHILI FEST T-SHIRT OR SWEATSHIRT - CUTE & COZY!
- NEW THIS YEAR!  CHILI FEST CAN COOLERS - SLIM OR REGULAR, WHAT'S YOUR FAVORITE?
- BW CHAMBER NECK GAITERS - THEY AREN'T JUST FOR COVID!
LAST BUT CERTAINLY NOT LEAST, OUR 2ND ANNUAL CHILI FEST RAFFLE - CHECK OUT THE PRIZES BELOW!
FINALLY, BEFORE YOU LEAVE MAIN STREET, YOU WILL HAVE THE RARE OPPORTUNITY TO PURCHASE BEVERAGES [YES, ADULT TOO] ON THE LAST BLOCK BEFORE YOU TURN TO LEAVE DOWNTOWN.  SEE BELOW FOR DETAILS!
WE HOPE YOU ENJOY THE MODIFIED EVENT AND MARK YOUR CALENDARS FOR SEPTEMBER 25, 2021!
A&W - American Family Insurance - Justin Nygaard Agency - Anytime Fitness - Anderson Excavating
Blackhawk Garage Door - Bridge Investment Group - Charlotte Heimer - Benefits & Resource Counseling
CW Garage Doors - Culver's - Baldwin - Fennern Jewelers - Homestead Veterinary Clinic
Hudson Physicians - Jordi Tiffany Photography - Liquor Haus - Murtha Sanitation
Nilssen's Foods - Phoenix Grill & Event Center - Shafer Financial Services - St. Croix Garage Doors
Stellar Graphics - Striker's Lanes & Sports Bar
Timmerman Realtors - Village Pharmacy - Xcel Energy
Adoray Home Health & Hospice - Baldwin Perk
Baldwin-Woodville Insurance Services - Citizen's State Bank - Feuerhelm Langer
Gregerson Ace Hardware - Lady Racing
Minuteman Press - Simply Staffing - Sonya's Employment Options - Valley Crossing Law
Drive-Thru Beverages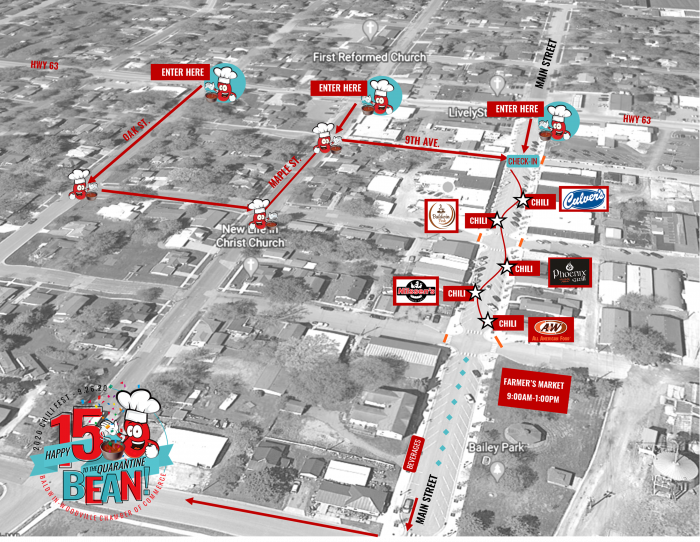 For the safety of all attendees, participants must drive-thru Chili Fest in a vehicle.  Walkers will not be allowed.
Chili Fest Button Contest
2020 WINNER - SOPHIE DICKHAUSEN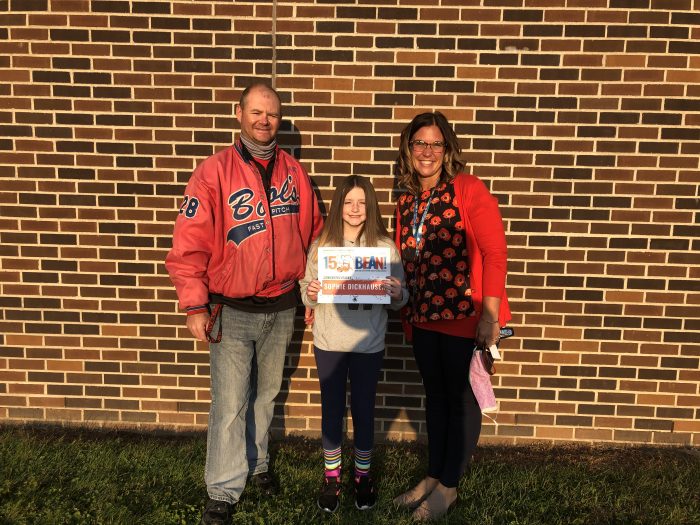 Sophie is pictured with Greenfield Elementary Principal & BW Chamber Board President, J.R. Dachel & Greenfield Elementary Art Teacher, Erin Johansen.
Receive a button when you purchase a Raffle Ticket!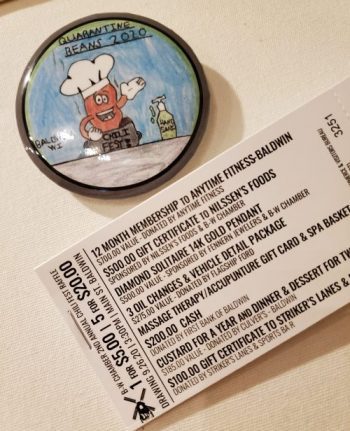 Available while supplies last.
Thank you for your support!
Each year Chili Fest is a FUNDRAISER for the BW Chamber.   All proceeds support the chamber operations, support of local business & the free, family friendly events we organize each year such as Trick or Treat Main Street, the Horse Parade & Visit from Santa & Mrs. Claus!
BUILDING BUSINESS, BUILDING COMMUNITY.