Building Business, Building Community.
Striker's Gives Back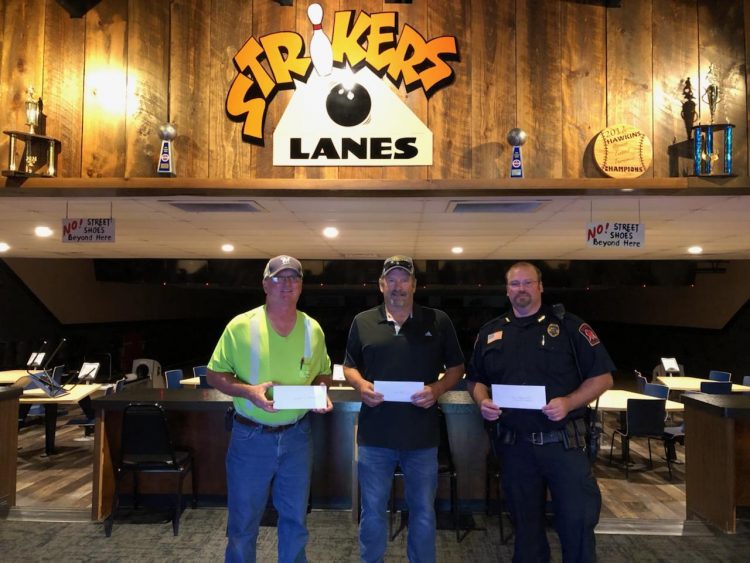 Pictured Left to Right | Gary Newton - United Fire & Rescue Chief,  Mike Dorwin -
Owner, Striker's Lanes & Sports Bar,  Darren Krueger - Baldwin Police Chief 
Missing from the picture, Eric Holen - Owner, Western Wisconsin Golf
Striker's Lanes and Sports Bar held their 4th Annual Big Cup Golf Tournament at Glen Hills Golf Course on Friday June 12, 2020. It was a warm and sunny day-perfect for golfing and fundraising!
Thanks to the generous donations of sponsors and golfers, we were able to raise funds for 3 local organizations. Originally set for donation to 2 organizations, Western Wisconsin Youth Golf and United Fire and Rescue, Baldwin.  Due to current events it was decided by Mike Dorwin, Strikers owner and Eric Holen of Western WI Youth Golf, to also donate to the Baldwin Police Department. On Tuesday, July, 21 2020, Strikers presented Gary Newton of United Fire and Rescue, Darren Kruger, Baldwin Police Department, and Eric Holen (Not present in picture) each with a check for $1610.00.
In thanking Striker's for this donation, both Newton, and Krueger said the funds will be used to purchase equipment to keep both fire fighters and police officers safe, which amounts to approximately $5000.00 per fire fighter and $3200.00 per officer.
Striker's would also like to thank Eric Holen and his Western Wisconsin Golf Club for their generous donation to United Fire and Rescue and the Baldwin Police Department by providing both fundraising and man power to make this tournament so successful.