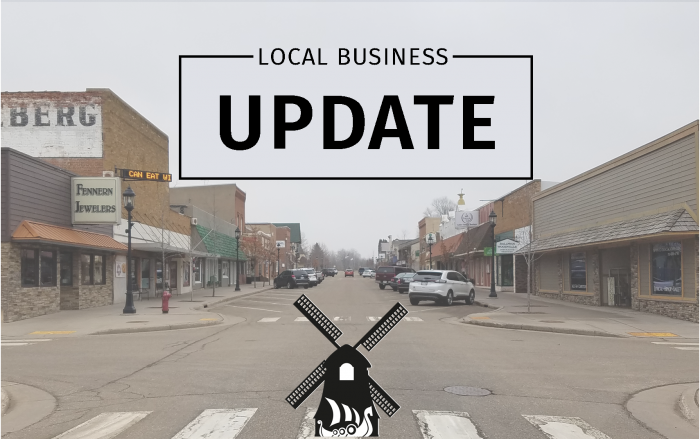 The BW Chamber of Commerce supports all local business in the
Baldwin-Woodville area and in the surrounding communities, they are all in need of our support now, more than ever during these uncertain times.
This local business update was started with current Chamber Members simply because it's who we regularly communicate with.
Any local business who would like their current information added to this listing, please email bwchamber@baldwin-telecom.net.
The business names below are linked to their website or Facebook
page unless they do not have one.
ADORAY HOME HEALTH & HOSPICE
Adoray's Treasurers from the Heart stores will be temporarily closed until Monday, April 6.
Adoray is holding a fundraiser "Keep Families Connected" in an effort to purchase ipads to keep hospice patients and their families connected during this social distancing time.  You can find more information and ways to make a donation on their website.
AMERICAN FAMILY - JUSTIN NYGAARD AGENCY
American Family is temporarily closing their office on Main Street, and will be working remotely.  You can contact them at 715.684.2919 or jnygaard@amfamcom or chetzel@amfam.com for assistance.  Payments can still be dropped at the office and those left by 5:00pm and will be credited the same day.
ANYTIME FITNESS BALDWIN
NEW! "ATTENTION: We just got word that the "Safer at Home" order will be in effect until Friday, April 24th at 8:00am.
We will be releasing more information in the upcoming days, but rest assured, we will be doing everything we can to help you keep your health & fitness on track.  We love our members and we will get through this together!" #fitfam #hope #staystrong #beatcovid19 #anytimefitness
A&W - BALDWIN
"Our dining room has closed but our drive thru is still open! We are taking call in orders and welcome truck drivers! Our hours are now 10:30 am to 9 pm.
Thank you for your continued support!"
Associated Bank's lobbies are temporarily suspended.  They plan to resume full branch access on April 13, subject to public health conditions at that time.  Drive thru, ATM and night deposit box services remain available.  You can also use 24/7/365 online and mobile banking services.
BALDWIN CARE CENTER 
Every facility on the campus [Baldwin Care Center, Burch Haven Assisted Living and Birchwood Apartments} are currently following the guidelines received from CMS and the CDC.  Visitors are strictly prohibited at this time.  The staff are providing ways for residents to communicate with loved ones.
BALDWIN CHIROPRACTIC HEALTH CENTER
At this time Baldwin Chiropractic is still open regular hours. They are however taking extra precautions to provide safe and sanitary services. Call 715.684.3344 if you have any questions.
BALDWIN FOOD PANTRY
The Food Pantry is closed for appointments, but now has a drive up service twice a week at Gethsemane Lutheran Church, 1350 Florence Street, Baldwin, WI  54002.  You will be able to drive up and a volunteer will bring a bag of groceries out to your car. PLEASE DO NOT LEAVE YOUR VEHICLE.  This is mandated by the government to protect the volunteers.  Hours are Wednesdays from 3:00-5:00pm and Sundays 2:00-5:00pm.
BALDWIN GREENHOUSE
Baldwin Greenhouse remains open 6 days a week and has a sanitary program in place. You can call and place an order for delivery or go to the website to order online and pay via paypal. What a great time to make a flower delivery to a loved one to let them know they are not forgotten. You don't even have to leave your house!
BALDWIN LIGHTSTREAM
Baldwin Lightstream is allowing current customers to upgrade their internet speeds at no charge for 60 days for work from home and online schooling purposes.  Currently their lobby is closed to the public and they are suspending Thursday's late hours until further notice.
BALDWIN PERK
You can still come and shop the boutique, gift, greeting cards & essential oil items.  You can also place your order to go, or pick up some baked goods, coffee, or delicious drinks.  Call ahead to place your bulk coffee order, or for curbside delivery.  Check out their Facebook page for available menu items.
B DUB NUTRITION HUB
BDUB is currently open from 6:30am-1:00pm serving nutritious, vitamin-packed shakes and teas.  They will be monitoring the situation continuously and adjust as necessary.
BLACKHAWK GARAGE DOOR
"In light of COVID-19, Garage doors are often used to provide a means of exit and egress from our homes. Properly functioning doors can facilitate exit from homes for people who may need to seek medical attention or to respond to public service calls. They can also provide easy access for emergency personnel seeking to care for residents. Today, we were able to fix a local Ambulance door which wasn't functioning properly in Prescott, WI. All of our employees are taking careful precautions of safety during this time so that we can be there for others that need us."
BOLDT'S PLUMBING & HEATING
Boldt's number 1 priority is the health of you and your family, our employees, and community. They are open and here to serve you and have added new protocols to keep everyone healthy and safe.
BRIDGE FOR COMMUNITY LIFE
UPDATE - Tuesday, March 31st:
BRIDGE will remain closed until further notice and will not be reopening April 6th.
We will contact you with any new updates through our Phone Messaging System and this facebook page.
Thank you and stay well.
_______________________________________________
This is an update for all BRIDGE Clients, Staff, and Visitors. BRIDGE will be closed starting Monday, March 16 to align with Governor Evers mandated school closure due to COVID-19. BRIDGE expects to reopen Monday, April 6 with BRIDGE transportation. BRIDGE staff should not report to work. BRIDGE staff will receive further communication on their employee benefits next week.
As we continue to monitor this evolving situation, BRIDGE is committed to offering our continuous support to BRIDGE clients and staff. We will contact you with any new updates through our Phone Messaging System and our face book site. Thank you and stay well.
China Taste is currently open regular hours for take out.  You can call 715.688.4488 to place your order.
CITIZEN'S STATE BANK
Citizen's has currently closed their bank lobbies to the public.  Drive-ups, ATMs and Night Depositories will remain open.
COMPEER FINANCIAL
Compeer team members will be working from home for the interim to serve you.  They will be available virtually or via the phone and the Compeer Contact Center is also ready and available to help you with your questions, accounts, transactions, billing, online banking & more.
CULVER'S - BALDWIN
Culver's has temporarily closed the in-restaurant dining, but the drive-thru is still open!
New! All Truck Drivers & Big Rig Drivers, located on Exit 19 behind Kwik Trip, Open 11:00am-8:00pm, call in your order ahead of time to 715.503.2000, pull in Culver's lot, or use Kwik Trip's truck lot.  Upon arrival, call and let them know you are there and one of their True Blue Crew members will run out, take payment, and deliver your food!
DJ'S RESTURANTE JUDA
DJ'S is open and has their full menu available, just call ahead at 715.688.3881 to pick up your order!
FAMILY RESOURCE CENTER ST. CROIX VALLEY
All Family Resource Play & Learn Groups are cancelled until further notice.
All Family Resource Baby & Me Groups are cancelled until Further notice.  Please continue to check the website & Facebook for updates.
FENNERN JEWELERS
"In compliance with the recent Wisconsin Department of Health order, Fennern Jewelers is closed for retail business. We are still working to complete repairs to our customer's jewelry. We will be calling when a job is finished and working to make arrangements with each customer for curbside pick-up if that option is desired. Otherwise we will be securely storing all repairs until the closure ends.
We look forward to a safe and healthy reopening. Thank you for your understanding."
FEUERHELM LANGER, LTD.
"Feuerhelm Langer has been considered an essential business so we will remain open during this time to continue our payroll, tax and accounting services. They are encouraging people to still file their taxes even though they extended the filing date. Let us help you get your refunds if you have one coming!
We are trying to minimize foot traffic in our office as much as possible to protect our employees but we still have our doors open for drop offs. We encourage mailing or uploading to our secure link on our website if you have the abilities. As always, give us a call if you have any questions! We will get through this together"
FIRST BANK OF BALDWIN
All First Bank of Baldwin Offices are open normal business, however the lobbies will be closed to the public.  Access to drive-up, ATMs, customer service and 24/7/365 will still be available.  You can also call ahead to make appointments. Please continue to check their website & Facebook for updates.
FLAGSHIP FORD
Flagship is now offering free pick up & delivery for customer vehicles to their service appointments, PLUS a basic sanitizing wipe-down prior to drop off.  Flagships temporary hours are -
Sales M-F 9:00-5:00 & Sat 9:00-1:00
Quick Lane|Parts|Service 7:30-3:00
GATEWAY PUBLISHING
Gateway is still publishing both the Woodville Leader & Sun-Argus newspapers and some small commercial printing & copying on-site in Spring Valley.  Any print or copy order can be emailed and completed orders can be picked up or delivered.
GREGERSON ACE HARDWARE
NEW! In an effort to better protect the community and their staff, beginning 3.25.20, Gregerson's will be adjusting their store hours from 9:00am-3:00pm and will continue to restrict the number of customers who enter the store at one time.
HILLTOP/PIZZA PLANET
Hilltop is open ready to take your order.  Check out their Facebook Page for specials and menu items!
HOMESTEAD VETERINARY CLINIC
In an effort to "flatten the curve" you may see changes at Homestead.  Social distancing at the clinic, temporary refill policies for prevention products and the institution of telemedicine where appropriate.
HUDSON PHYSICIANS
NEW! Hudson Physicians is ready for telemedicine visits. You can call 715-531-6800, select option #1 to schedule. They currently have availability.
This service will be billed through your regular medical insurance. They have done sick visits, medication checks, and even a few rashes. They are also happy to counsel on COVID-19 (Coronavirus).
Call 715-531-6800, select option 1!
JACOBSON, INC.
Jacobson Inc. is OPEN for business and is continuing to take extra precautions to keep our employees and customers protected from the current virus outbreak. Call us for pick up and delivery service for all of your vehicle needs. Thank you for your continued support.
KILKARNEY HILLS
"To our valued customers and friends, due to the demands involved with the Corona Virus, we are sad to announce our golf course will be closed for golf until further notice. We will still be operating our Friday Fish Fry Takeout on Friday's 4pm-7:30pm.
Please check our website and social media sites for all updates.  Thank you for your continued support through this uncertain time."
KRISTO ORTHODONTICS
Due to CED, ADA and AAO guidelines, Kristo has closed their offices and will plan to resume operations on April 6th.   Please feel free to contact them if you have questions, concerns, or an orthodontic emergency.
LAB ZONE
Lab Zone is currently open regular business hours.  Call 715.698.3868 for further information.
LIQUOR HAUS
New! The Liquor Haus will be open
Monday - Saturday 9:00am-8:00pm
Sunday - 10:00am-6:00pm
Don't forget, they have a drive-thru!
MASSAGE BY EMILY JO
Due to the social distancing guidelines Emily Jo will not be taking appointments at this time for massage appointments.  Until then, she is offering virtual support with self care and stretches for those who need assistance from home. You can contact her on her FB page www.facebook.com/massagebyemilyjo or at massagebyemilyjo@gmail.com.
MCDONALD'S - BALDWIN
McDonald's drive-thru is open regular hours at this time.
MINUTEMAN PRESS - HUDSON
Just as a reminder - Minuteman delivers!  Contact them if they can help you out in anyway.
NEXT GENERATION AUTO
Next Generation Auto is doing everything they can to ensure customer and employee health and safety. Every vehicle they service will have contact areas disinfected upon arrival – keys/fobs, driver's door handles, steering wheel, gearshift, turn signal, seatbelt buckle and latch. When service is completed, they will follow the same protocol and return your vehicle to you. They have several options for customers such as, picking up and dropping off your vehicle, taking payments by phone, leaving keys in their drop box, all to accommodate social distancing. Their lobby is open, clean & sanitized, and appointments are spaced out for your comfort and safety. Complementary loaner vehicles available too. Next Generation Auto is here for you – and we will ride this out together!
NILSSEN'S FOODS
Nilssen's is still open regular hours and they continue to monitor the Coronavirus situation.  They have temporarily suspended the in store sampling of products, and refilling guests' reusable cups in those locations that have a Caribou Coffee.  They have also increased our cleaning measures within the store including having staff members clean surfaces on a regular basis and have sanitizing wipes available for customers to wipe carts off upon entering the store.
OAKLEAF SPECIALTY CLINIC
The State of WI has set up a COVID-19 triage call center.  Call 2-1-1 if you have questions regarding the virus. You also can visit their website for the latest information from the CDC and the Department of Health Services.
O'CONNELL FAMILY FUNERAL HOME
Cybersecurity and Infrastructure Security Agency (CISA) named mortuary workers as "critical infrastructure workers." This underscores the vital role funeral directors and others who work in deathcare play in responding to the novel Coronavirus (COVID-19) pandemic.
The guidance noted words from President Donald Trump's Coronavirus Guidance for America: "If you work in a critical infrastructure industry, as defined by the Department of Homeland Security, such as healthcare services and pharmaceutical and food supply, you have a special responsibility to maintain your normal work schedule."
The O'Connell Family Funeral Homes will do everything possible to help families cope with the loss of loved ones while adhering to the guidelines passed on from the CDC
RESTYLE & CO.
reSTYLE & Co. is currently closed, and planning to re-open by March 29.  Until then, they will be open limited hours for pick up Thursday 10-3 and Friday 10-3.  Be sure to watch their FB page for new projects & merchandise - be inspired while at home!
PHOENIX GRILL & EVENT CENTER
The Phoenix currently has carry-out an curbside to go from 12-7pm daily.  Bottles of wine and beer will also be available to your to-go order, but you must come into the restaurant to pay and show your ID.
PIZZA MAN
Pizza Man is still open their normal hours for take out & delivery.  You can check out their menu HERE and call 715.684.5351 to order.
SERVPRO OF THE ST. CROIX VALLEY
NEW!  SERVPRO has an Emergency Readiness Planning Presentation that you can find HERE. SERVPRO is also considered an essential business and will be operating as usual and offering full service solutions which include preemptive disinfection of schools, office and other commercial manufacturing buildings as well as higher level cleanings for businesses that may be the COVID-19 virus.
SIEVERS CREATIVE
With the COVID-19 situation continually evolving, more than ever businesses are needing to rely on digital communication to get news out quickly. The Sievers team is working and ready to help by providing up to date messaging to your customers on your website, social channels or whatever your needs may be.
ST. CROIX ELECTRIC
The SCEC lobby is currently closed to the public until at least April 1.  Additionally, they have decided to postpone their Annual Meeting scheduled for Saturday, April 18 at St. Croix Central High School.
ST. CROIX GARAGE DOORS
With the COVID-19 situation continually evolving St. Croix Garage Doors are taking their own precautions of safety during this time. They do not need to be face to face with a customer to repair, replace or service your garage door or opener.  They are open for business as usual.
Mention this site to receive $25.00 off a service call.
ST. CROIX VALLEY DANCE ACADEMY
SCDVA will be closed Monday, March 16th through Sunday, April 5th. The health and safety of our dance family and community is our number one concern at this time. We will continue to monitor this evolving situation as the days go by and will make adjustments as necessary.
STELLAR GRAPHICS
Stellar Graphics at this time is offering Free Delivery, $35/hr design fee, 5.5x8.5 postcard printing for only $.11 postcard printing for 5.5x8.5 postcards, $.17.9 cents for saturation mailings.  Contact Kip at 651-295-7980 for more information.
STRIKER'S LANES & SPORTS BAR
New! Striker's is now open for carry out Monday-Saturday from 11:00am-7:00pm.  Call 715.684.2794 to place your order!
SUBWAY - BALDWIN
Subway is open for take-out at this time.
SUZANNE WYNVEEN PHOTOGRAPHY
At this time SWP wants to respect social distancing and is open for pick-ups by appointment only. Watch for updates on scheduling upcoming sessions in the next few weeks - Suzanne CAN stay 6ft away with the equipment she uses! You can however  book your 2021 senior picture  appointments NOW for this Summer and Fall and family sessions that are long overdue.  Now is also a great time to make those choices and place an order from your recent session. You can also purchase a gift certificate [that will not expire] for future use that they will mail to you - it's a great gift idea too! #thistooshallpass #staysafeandtrust"
THE SMOKEHOUSE
"Because we value our customers and appreciate your business, "The Smokehouse" is now providing curbside service. This is for our at risk customers or others unable to come into the store for any reason. We will shop, bag and deliver curbside.
• Call us at 715-698-6328
• provide us with your shopping list.
• We will call when your order is ready.
• Determine approx. pickup date &time.
• A designated parking spot for pickup.
We accept cash, check or credit card.
Orders after 2:00pm may be fill the next business day, pending availability.
Let us know if we can help in any other way. We will get through this together!
THE STASH
The Stash is open and has plenty of craft sets ready for you. Classes have been cancelled, but class credit will be issued to those who have registered for upcoming classes.  They do have curbside pickup or you can stop in for a quick shop. They also are preparing crafty kits and projects and we are here to offer assistance in any way we can.  Check out their website for more details!
THRIVENT FINANCIAL - JESSE KVITEK
Our Local offices for Thrivent Financial in Baldwin and New Richmond will remain available by phone, by Zoom meeting, Skype Meetings or in person by scheduling an appointment. Please call us at 715-684-4395 or 715-246-6800
TURNINGPOINT FOR VICTIMS OF DOMESTIC & SEXUAL VIOLENCE
NEW! Turningpoint's Second Chance's Thrift Store is Temporarily Closed until further notice.
Turningpoint's crisis line and crisis shelter remain open and available to the community.  If you are in crisis or need emotional support, please call 715-425-6751, or text 715-821-8626 to connect with an advocate, 24-hours a day, 365 days a year.
Turningpoint's New Richmond location will be closed through April 1.  If you require support, call 715-425-6751 or text 715-821-8626 to connect with an advocate, 24-hours a day, 365 days a year.
Turningpoint will offer our Creative Healing Sexual Assault Support Group online via Zoom on Wednesday, March 18 & March 25 from 6:00-7:30pm. To register for support group, please click the following link:
https://zoom.us/meeting/register/uZYrfuCtpz4j_BfJ87gcae_NCuEKotWWMQ.
Participants will receive an e-mail with instructions on how to join the Zoom meeting. Please e-mail April Mootz, Sexual Assault Services Coordinator, at aprilm@turningpoint-wi.org, with any questions or concerns. New members are ALWAYS welcome, even if their first time is via the Zoom meeting.
Turningpoint's Thursday evening Intimate Partner Support Group is no online. To register for the Thursday Night Intimate Partner Virtual Support Group, contact Erica Boos, Client Services Coordinator, at ericab@turningpoint-wi.org
Also, Legal Clinic will not be held in April.
Please visit turningpoint-wi.org for details.  In the meantime, if you require emotional support, call 715-425-6751 or text 715-821-8626 to connect with an advocate, 24-hours a day, 365 days a year.
UNITED WAY ST. CROIX VALLEY
The United Way is collecting donations of food and household items to distribute to the food pantries in the communities that they serve.  Please check out their website for ways to donate physical items, or to make a financial donation.
VALLEY CROSSING LAW
"For the safety of our clients, our staff and our community, our physical office will be closed to the public until the Wisconsin Safer at Home Order is lifted or expires on April 24, 2020. As an "essential business", we will, however, continue to serve our clients. We will do so remotely as much as possible, utilizing technology. We will be monitoring and responding to email and voicemails, conducting as many conferences as possible by telephone or video conferencing. We will conduct essential face-to-face signings in compliance with social distancing by advanced appointment and arrangement. If you have any questions or concerns, or if you want to schedule an appointment, do not hesitate to contact us and we will get back to you as soon as we can."
VILLAGE OF BALDWIN
the Village would like to remind you that at this time the public buildings remain open, however, if you or your family members feel sick, please stay home.  Also, while kids are home from school & parents are working from home, remember that paper towels, "flushable" wipes & rags SHOULD NOT be flushed down the toilet.  This could cause sewer blockages & damage to the pumps.
VILLAGE OF WOODVILLE
The Village of Woodville buildings are now closed to the public. Village staff, Public works and Police personnel will be working and can be contacted at: Village Clerk's office-715-698-2355, Public Works-715-698-2494, and Police -715-698-2169.
At this time, it is our intention to maintain all essential/critical village functions with our employees continuing in their normal capacity while working remotely and/or within the facilities closed to the public. Residents will see no change in the level of essential services provided for public safety (police, fire, and ambulance).
All residents needing to make utility payments to Village of Woodville Utilities or Municipal Court payments can do so by mailing, placing their payments in the drop box located outside of the Pioneer Building, or by utilizing the online payment portal found on www.villageofwoodville.org. All other payments can be mailed or placed in the drop box.
The Woodville Police Department is functioning as usual.  We will do our part to "flatten the curve" and not overwhelm our healthcare system.   We will be suspending our April Municipal Court as of now any pending cases will be rescheduled and remain open.
The Village of Woodville will continue to provide regular updates on its website and social media accounts as the situation warrants regarding cancelations, postponements, or closures.
VILLAGE PHARMACY
NEW! Important announcement for our telepharmacy located inside Western Wisconsin Health (only): effective Wednesday, April 8th our WWH location will be open 9am to 1pm (rather than 5pm) Monday thru Friday (still closed Sat and Sun) until further notice. This is a temporary hours change for the WWH location only; we hope to be back to our regular hours soon!
If you need anything from the WWH location outside of those hours, transfers or pick-ups can be arranged through our Main Street store at 715-684-2674, which continues to be open our regular hours.
WESTCONSIN CREDIT UNION
The WESTconsin Credit Union lobbies are closed now until April 4.  Their drive-ups, service center, ATMs and night deposits will remain open.
WESTERN WISCONSIN HEALTH
"Beginning immediately, March 29, 2020, Western Wisconsin Health will limit patient visitation on our campus.
For the protection of our patients and staff, Amenity Health has enacted a limited visitor policy across our campus, effective immediately. Main entrances and emergency department doors will remain open. Other access points may be locked. All exits will be accessible. Visitors will be screened by staff on-hand at entrances. Visitors will be limited to the following:
• Essential visitors only
• Maximum of one (1) visitor per patient
• No visitor under the age of 14
• Visitors wishing to wait for patients are advised to do so in their personal vehicle"
WESTERN WISCONSIN HEALTH IS IN NEED OF MASKS - ESPECIALLY N95'S.  If you have any, please drop then off at the main doors of the clinic.  If you sew, they are also accepting hand sewn masks.  Please see their Facebook Page for links on patterns that are safe for healthcare workers.
Western Wisconsin Health at this time has closed the Eatery and Fitness Center until further notice.  Visitors will not be allowed in the facility any exceptions will need pre-approval from the house supervisor and will be screened when entering the facility.  The van service will be discontinued end of day on Friday, March 20.
XCEL ENERGY
Xcel will not be disconnecting services from any customers until further notices.  If you have difficulty paying your bill, please contact them to set up a payment plan that works for you.fully up and running, no alterations to the services that we offer. Which do include preemptive disinfection of schools, offices and other commercial manufacturing buildings, as well as higher level cleanings for businesses that may have been compromised by the Covid19 virus.